Buy Barnevelder hatching eggs.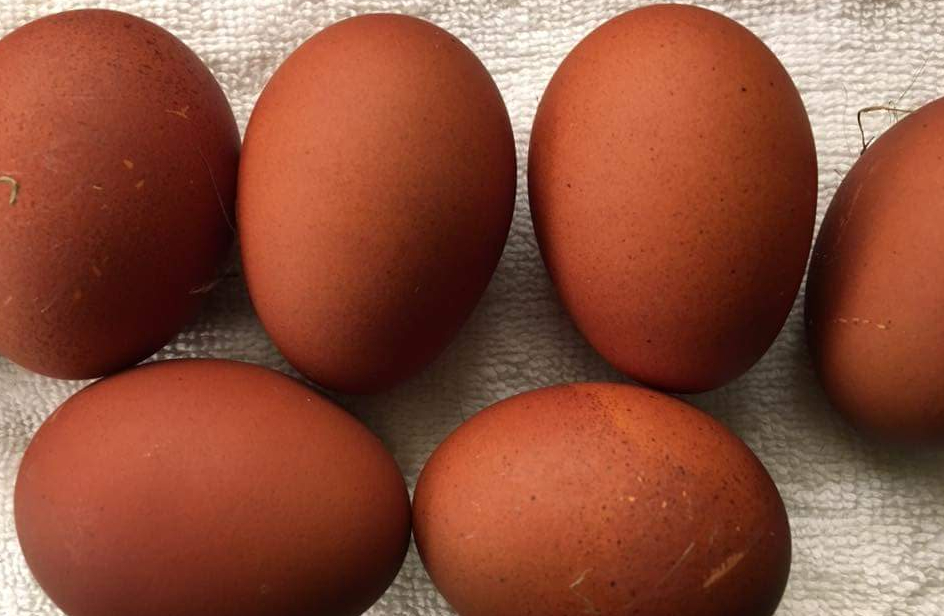 From our rare breeds to UK postcodes and some EU countries:
Due to personal circumstances, Covid, Brexit and the fact we have still not recovered from the theft of some of our chickens we will not be able to supple eggs for the 21 and 22 season. Sorry.
CHECK AVAILABILITY -  Eggs are a natural product laid at the whim of chickens and sometimes may nor be ready when you want them - To check the availability and time to dispatch for hatching eggs contact us at admin@barnevelders.net
EGG QUANTITIES -  Most of out hatching eggs ship in 9's. This number gives you the best chance of a reasonable amount of chicks. If you need a bespoke quantity contact us at admin@barnevelders.net
OUR EGG POLICY  - We do not hold eggs in stock. Eggs for hatching are collected fresh when an order is placed. Some breeds have a waiting list which is operated on a first come first served basis. Eggs are never more than 48 hours old when posted. We pack eggs in several layers of bubble wrap, paper shreddings and cardboard boxes and postage of large items is £11 next day. All the prices listed for egg include delivery.
CHICKENS FOR SALE - I sell my surplus and raise pre-ordered birds, because of demand it is unlikely we have spare stock.
Double laced Barnevelder large fowl hatching eggs: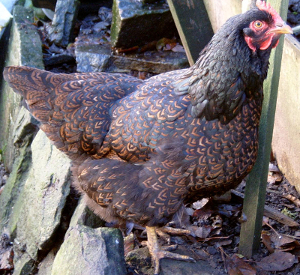 9 X Double Laced Barnevelder hatching eggs. You can see and read about our Barnevelders on the main site. Double Laced Barnevelders are large, soft feathered docile and friendly birds which lay 180 to 200 eggs / year.
They are a utility or dual purpose chicken and are good layers of speckled brown eggs. These also make an excellent meat bird. Speckled brown eggs for hatching.
Not an auto-sexing breed. The average dispatch time for these is currently 21 days. 
Silver laced Barnevelder large fowl hatching eggs: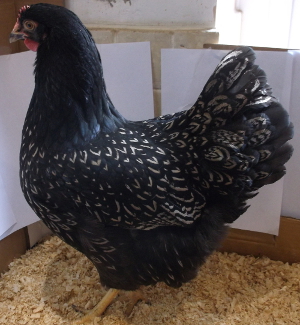 The Silver Laced Barnevelder is a stunning bird which I have bred myself across 10 generations, but maybe I am biased. You can look at up to date pictures and read about my Silver Laced Barnevelders here
All the traits of the Barnevelder with amazing silver lacing. Our birds are Well marked with a good shape and lay a cream or pinkish egg. Getting a brown egg silver is our next challenge and some of our birds are beginning to.
Demand for these eggs is huge so please contact us for a delivery window or to be added to the waiting list.
Price £30.00
 

Blue laced barnevelder hatching eggs:
9 Blue laced Barnevelder hatching eggs. Our hens lay 180 /200 speckled chesnut brown eggs per year. There are more pictures and a breed profile for the double laced Blue Barnevelder here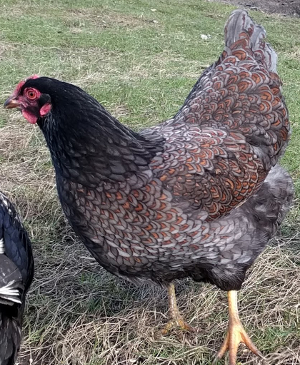 We think these are quite stunning. Blue laced Barnevelders do not breed true, contact us If you would like to produce your own. The eggs you receive are produced by a splash male of gold laced hens as I find this produces the most consistent results. Breeding blue with blue can be very hit and miss.
The current waiting time for dispatch can be as much as 40 days.
Price £30.00
Blue splash Barnevelder hatching eggs:
9 hatching eggs for the Pure Blue or blue Splash Barnevelder This is an absolutely stunning bird laying a brown egg. These eggs are produced by mating a blue splash males with a splash hen and all the resulting eggs will be splash. The birds have a red saddle to varying degrees.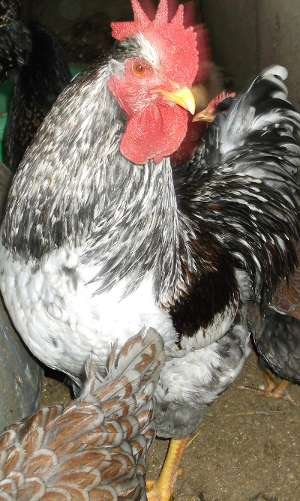 Sorry, currently sold out, contact us to pre order. There may be a delay of up to 90 days.
Price: £40.00
Double laced bantam Barnevelder hatching eggs: 
9 hatching eggs for the Bantam Gold Laced Barnevelder. These are fantastic little birds and are well marked and lay a really nice cream / pinkish egg. They are easy to keep and tolerate being handled very well.
Our birds are from show stock and compare very well to the breed standard. Ours laid an average of 200 eggs last year with a fertility rate of over 95% and an average hatch rate from posted eggs of 7 from 9. These lovely little birds make excellent pets for kids and are really easy to tame.
 Not an auto-sexing breed. - The average time till dispatch for these is 7 to 14 days.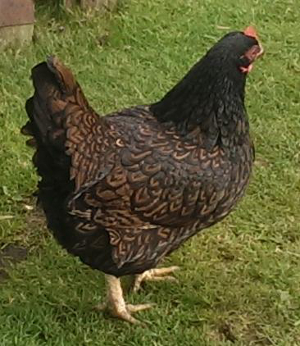 Price £22.00 including next day delivery to UK postcode
Silver laced bantam Barnevelder hatching eggs:
 9 hatching eggs for the Silver Laced Bantam Barnevelder. We have a few trio's of these amazingly coloured little Barnevelders. These birds are good layers of cream eggs. Whilst the pictures aren't the best quality you can see our roo's and hens have no red leakage and excellent lacing.
The average time for dispatch of these eggs is currently 12 to 25 days. Not an auto-sexing breed.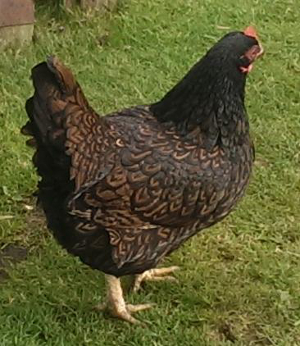 Price £26.00 including next day delivery to UK postcodes.
Blue laced bantam Barnevelder hatching eggs:
Pictures and details coming soon, available from 2019.
Silver laced Wyandotte bantam hatching eggs:
9 Silver Laced Wyandotte bantam hatching eggs. These are the strain I used to create my silver laced Barnevelders years ago and I have been keeping them ever since.
 Price £22.00
How we pack our eggs:
Eggs packed for shipping are carefully selected to be the breed standard. Postage is included for delivery to any UK postcode regardless of the number of eggs in an order.
We can ship up to 18 eggs to most EU countries. Postage to the EU varies considerably, email us for a quote. Depending on the country UPS varies between £24 and £90.
We don't use polyboxes to pack our eggs, we have a double card box packaging system and the eggs are well wrapped in bubble wrap and placed in a large box of paper shredding.
Eggs are shipped within 60 hours of being laid by the hens and we do not hold eggs in stock which is why we put an average dispatch times in our listings.
Collection is free. 
So I've got my eggs - now what?
Unpack them carefully and place pointed end down.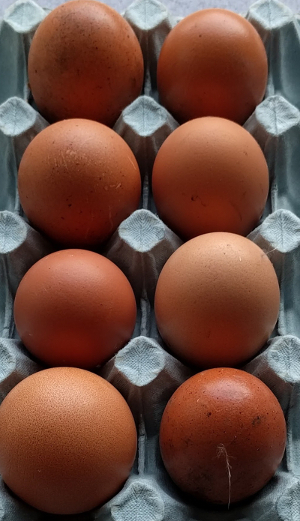 Allow them to come to room temperature .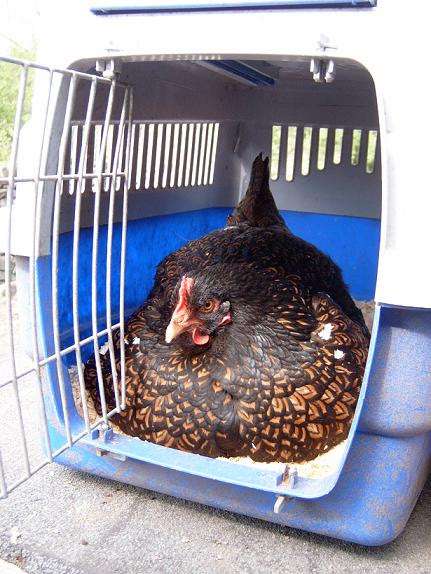 Incubate your egg with whatever method you are happy with.