A review of automatic chicken coop door openers with 4 on test.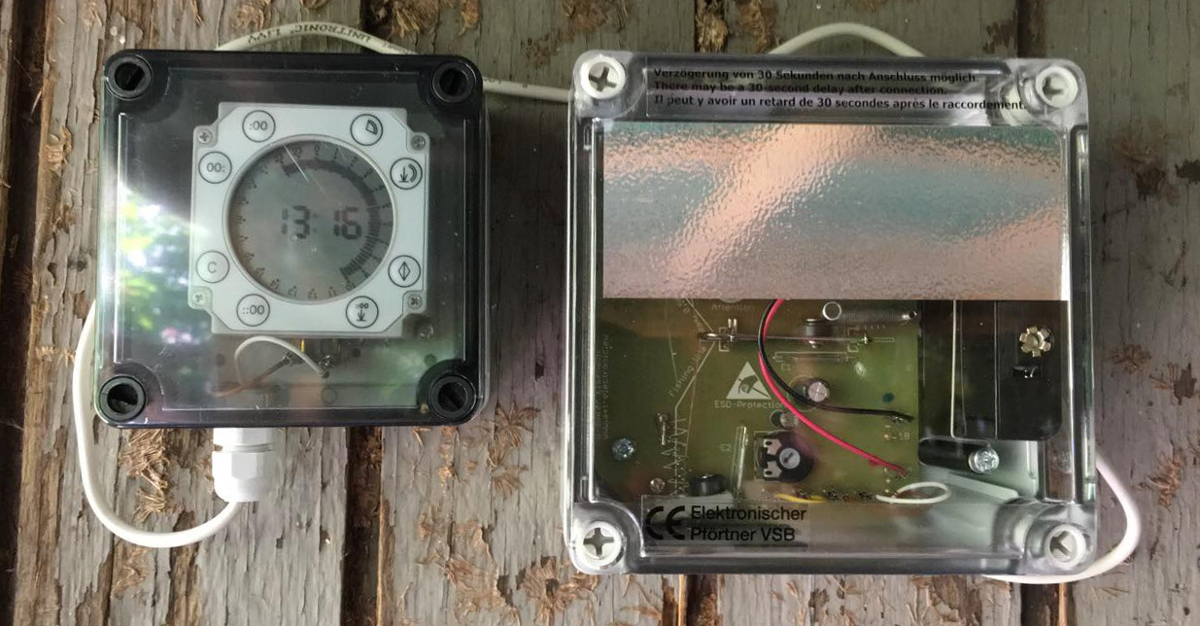 This article contains my views on automatic chicken coop door openers and closers. I have over 300 chickens and use 11 of these devices and love them all. Some are better than others and one or two are almost useless.
This post contains affiliate links.
Automatic poultry door openers.
Automatic coop doors are perfect if you are not a morning person or work late at night.
My main concern with these before I got one was that the hens would get locked out night. So far I have never had that happen. All of mine shut the doors about 20 to 30 minutes after the last bird has roosted. I was amazed as I thought we'd have several rounding up sessions every night.

It turns out that if you fit them right and look after them you get years of use. They are a godsend, especially if you have a disability or limited mobility.
Below: What is in the box when you buy an automatic poultry door.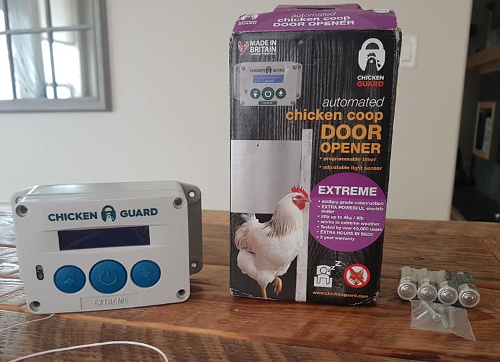 They are all pretty standard, The door controller, 4 AA batteries and 4 mounting screws is the standard.
They do have their limitations as much as they are useful.
What do automatic chicken coop doors do?
Automatic chicken coop doors are battery powered devices that simply open or close the coop door at either a preset time or at a certain light level. Having one means you do not need to be present first thing in the morning or last thing at night to let the chickens out or put them to bed.
They let the flock out at sunrise and close the door at sunset.

What types of automatic chicken coop door are available:

There are three basic types of automatic coop door:

1. Those that open or close at a preset light level. As the sun rises in the morning and the sensor in the automatic door detects a certain amount of light it begins to open. Then as the sun goes down and it begins to get dark the sensor sends a signal to the door closer to shut the door.

2. Timer based door openers. These just open your coop door at a preset time.

3. Combination coop door openers that use both methods but the timer can override at times like mid summer when you don't want your birds out at 4 am in the morning.
How do chicken door openers work?
Automatic coop door openers use a small battery powered electric motor to pull open a coop door at either a preset time or light level. The trigger sets the motor running and it slowly pulls the door open or allows gravity to shut it.

There is a stop switch that switches the motor off when the door is fully open.
Below: The internal working of an automatic chicken coop door.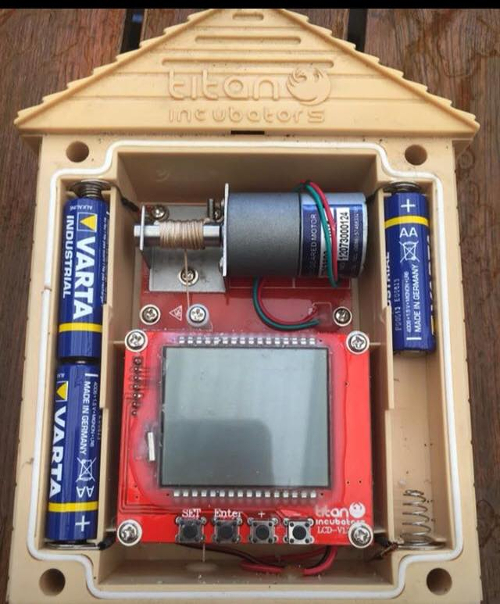 All of them work in much the same way, they have a power source, some control electronics, a geared electric motor and some settings or adjustments.

When it comes to closing at sunset the low light levels or the timer turn the motor the other way and gravity pulls the door closed.

They need to be fitted carefully and on a level otherwise they may fail prematurely. Some are not weatherproof and are designed to be installed inside the coop.
Are there any disadvantages to automatic coop door openers?
There are three main problems with automatic poultry doors.
In low light levels like during a thunderstorm or when covered in snow they can close and trap the chickens outside. Shady garden locations can also be a challenge.
When the batteries go flat the flock will be trapped inside and this can cause all sorts of chaos.
The instructions can be difficult to follow and the unit need quite a lot of setting up.
A fourth issue with the cheaper ones is that the settings cannot be altered and they are not always of the highest quality.
What to know before buying an automatic poultry door:
They are all expensive.
Most require some skill to fit and maintain.
Not all types are compatible with all coop and door types. Most do not work with ramps.
They all get through batteries so you need some spares.
You have to watch them for the first few days to make sure they are working as intended and the hens are getting used to it.
You need to test them occasionally and watch them open and close.
Warranties are normally limited and you will have to pay postage if you need to return it.
Do you need an automatic chicken door?
If you have limited movement or partial or full disability these devices enable you to keep chickens safely and will make your life much easier. Also if you are not always around to open up in the morning or close down at night then you need an automatic coop door.
I would not keep chickens any more without one. They are a brilliant invention that makes chicken keeping easier and more pleasurable.

This gadget changed my life as my chickens are in a field away from my house. I use the timer in the morning to let them out of the coops into fenced area. Then I use the light sensor to close it at night when they all go to bed, which can be quite late in the summer months.
What maintenance do automatic coop doors need?
Change the cord. On average I reckon to change the cords that move the door about once every two years or so, sometimes more and sometimes less. It is not always easy and can be fiddly if you are not good with your hands.
New batteries. Some are better than others here. The batteries last two years or so in my VSB but only 6 months in my others.
Keep clean. Keep clean and remove any bits in the door area. Oil any pulleys occasionally and check the door closes fully. Dirt on the light sensor may cause the door to close early.
Use wood sealer on the wood so when the seasons change it won't swell or shrink as this can cause the cord to fray or the door to jam.
How long do the batteries last in automatic chicken coop doors?
All automatic coop doors have compact geared motor with steel gears ensuring long battery life. In my experience some are better than other when it comes to battery life but expect to change them every six months to two years or so.
My VSB units are the best when it comes to battery life and I have had them last three years before they needed to be changed.
It does depend on the weight of the poultry door you are lifting and how far you have to lift it.
I have mine set to raise only 30 cm and the doors weigh in at around 600 g or just over a pound. This way the units never get stressed and last for years.
Should I get an automatic chicken coop door closer with a timer?
I recommend getting one with both a timer and sensor.
The big problem with timer only units is that day length varies quite a lot and you may find the door closing early as spring becomes summer, trapping you flock outside.
This is also true at the other end of the day, you may find stressed chickens waiting to get out as the sun has been up several hours already.
Can you make your own automatic coop door?
You can make your own automatic coop door.
The simplest coop door opener I have seen was just a timer with a switch that turned the door lift motor off when it opened.
You can buy all the bits and build your own but it will save you a huge amount of time to buy one.
What sort of coop doors work with automatic openers?
All automatic coop doors work with sliding doors only. To use one the coop door must move vertically and generally weight less than 2 or 3kg.
Below: One of my favourite automatic coop doors (the VSB) installed in a wooden coop.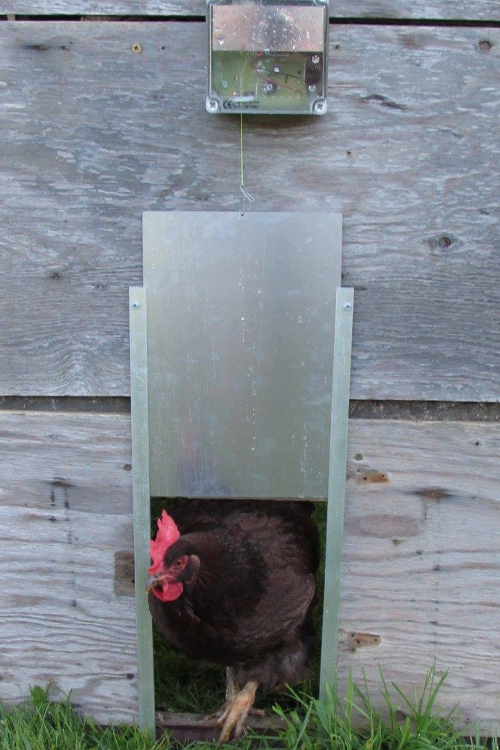 The only exception to this rule is the Omlet Sliding door which is a pre-built unit that opens sideways.
You generally can not use ramp style door with automatic controllers.
You can buy automatic coop doors that open a standard hinge door with an actuator.
Coop controls produces a huge 12 volt monster that will open and close a swinging coop door. It requires a solar panel and large 12 v battery as well as extra support to be installed.
The coop controls unit is complex and expensive, starting at $229 with no battery.
What is the best automatic chicken coop door?
So what automatic poultry doors do I spend my money on.
The VSB - review below. In short the VSB is by far the best automatic chicken door opener/closer. They are compact, water proof, and everlasting. My first one is 11 years old and still working a dream. It is also a very reasonable price in comparison to some.
Although the VSB is not available by name in the US, there is an almost identical version called the Rural365 Electric Chicken Door Opener. Check it out on Amazon.
The Chickenguard is my second choice.
I have used 4 other types and they are also covered below.
Automatic chicken coop door opener reviews:
All information is correct at the time of writing but please remember that product specifications do change as do warranties and registration procedures.
The VSB Automatic chicken door opener:
The VSB automatic door opener for chicken coops is suitable for in or outside installation, is weatherproof, can readily be exposed to sunlight and is insensitive to lightning strikes.
Mounting is very easy, simply open the unit and screw it to the coop directly above the coop door and insert the batteries. It only works with sliding doors up to a max weight of 3kg and is powered by 4 AA batteries. The battery life is at least 2 years with a 1.5-kg sliding door and Many of mine last much longer than that.

The unit contains a compact geared motor with steel gears ensuring long working life, a small flat battery holder and some intricate springs and levers with the string running through. You can make use of pulleys to mount the unit in a different location or to lift heavier doors.

This is my favourite of all the automatic door controllers, They are compact, easy to fit, simple to use and adjust and seemingly bulletproof. I have had my oldest one for 11 years and currently make use of 5 in total. The oldest one is just on it's fourth set of batteries and second string. If there is one disadvantage to this unit is is that changing the string is difficult and fiddly.

VSB currently produce 4 products :
The VSBb - A basic automatic poultry door opener. that works according to dawn & dusk or the optional timer.
VSBbi - As the VSBb but with the light sensor fitted on an external cable so that the main unit can be position inside the hen house.
VSBb-SA is specifically designed for ducks as they don't normally put themselves away. It automatically opens in the morning but in addition it can be manually activated to shut before dark.
A Timer - Connecting a timer to a VSBb or VSBbi will enable you to set the actual opening time with the light sensor controlling the closing or to control both opening and closing. 
The VSB Automatic Chicken House Door Opener by AXT-Electronic is a light sensitive, battery operated pop-hole door opener for vertical sliding doors with a maximum stroke length of 50 cm. 
A UK only product at the moment - buy on flytes of fancy.
The US version is called the  Rural365 Electric Chicken Door Opener - buy on Amazon.com.
HenSafe automatic chicken house door opener & closer:
The hensafe is very similar in design to the VSB above.
HenSafe makes use of 4 of the bigger C-type (LR14) alkaline batteries and will lift doors up to 5kg in weight. The HenSafe is a brute that is solidly built and will last for years, mine has after all.
Below: A HenSafe unit installed on a wooden coop.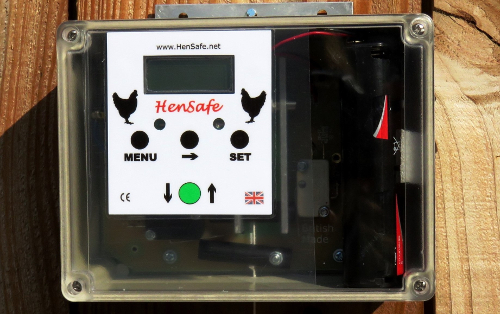 It is one of the bigger units and would be my first choice if i had a big heavy coop door.
Buy the HenSafe on Amazon.co.uk only at the moment.
ChickenGuard:
This is probably the top choice for US residents.
I think the chickenguard is the most compact unit at the moment. They currently make 3 models of automatic chicken coop pop hole door opener, The Standard, with just a timer, the Premium with both timer and light sensor and the Extreme that with timer and sensor that lifts doors up to 4kg.
Below: A Chickenguard Standard model.
After using one for a few years this would be my second choice.
There are no user serviceable parts inside as all the electronics are enclosed in a weather proof casing and encapsulated in epoxy resin. So you are limited to changing the batteries if there is a problem.

Chicken guard door openers run on 4 x AA alkaline batteries but can be powered electrically via a USB cable & USB Charger. They have relatively good battery life & Low battery warning.

The door closed indicator light is supposed to be visible up to 100 metres away but in my experience it is more like 50 to 60.

The is a warranty that needs be activated on the Chickenguard website that works like a free purchase.

Installation is simple, just use the 4 wood screws supplied and follow the simple instructions, a asecond pair of hands might be useful to hold things.

To enter set up first press the centre button and it will show Chickenguard and the time on the screen, press again it then shows setup wizard, press again to enter set up. Then you then follow the instructions on screen or from the leaflet.

I found I had to re-calibrate the door as it did lift as high as I initially set it so there may be some stretch in the string they use.
Below: Turns out there is quite a bit of stretch in that string.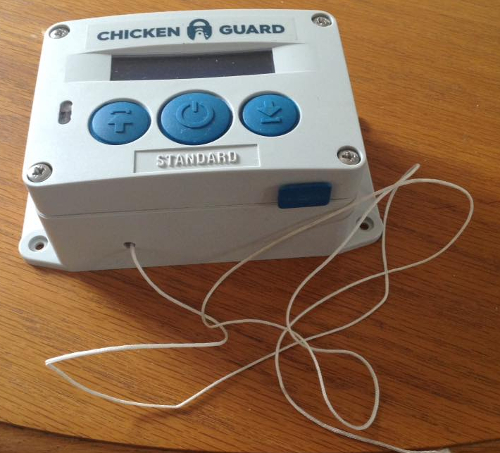 Once basic setup is completed, you can then enter separate menu items to adjust the trigger light level and the time.

The unit definitely feels like it was solidly built and is definitely compact. It also has a manually override buttons on the front.

It may have been the really cheap batteries supplied but they don't seem to last as long, mine are doing less than a year.
Buy the Chicken Guard on Amazon.com or Amazon.co.uk.
Titan Incubators:
The Elite chicken house door opener & door is one of the more sizeable units I have used at  125 x 125 x 72, so check you have space to fit it on your coop front.
Below: A Titan incubators automatic poultry door.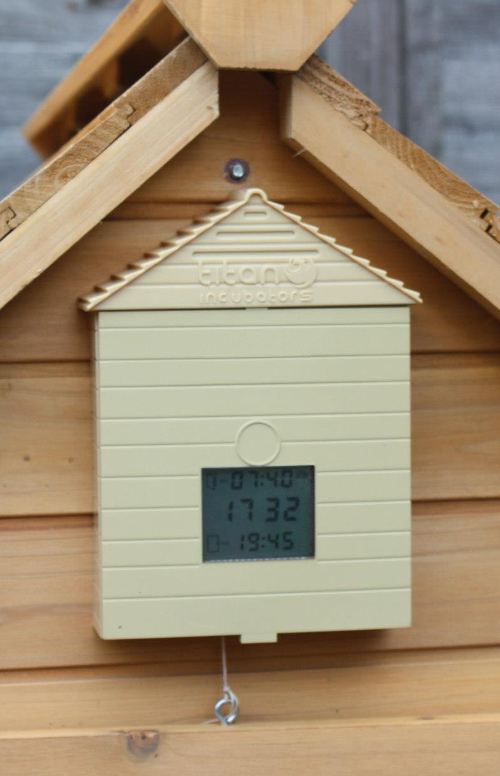 It comes with light sensor and timer in a weather-proof case. It is relatively user friendly and easy to mount. It is easy to use and set up and is adjustable and as long as you fit the door accurately it will work fine .

Mine gets through batteries quite quickly and I had to replace the string just 3 months after I bought it but the unit works well enough.
Buy a Titan incubators auto coop door on  Amazon.co.uk. 
Omlet auto door:
I have not used the omlet automatic chicken coop door and I haven't found anyone in my circle who has one yet.
There are plenty of good reviews on the omlet website, however if you read through them there are many duplicated ones.
It seems to be easy to fit on any Eglu coop or even non omlet wooden coops and set up is simple. Also From my past experience Omlet has a sort of fanatical following for it's moulded plastic coops.

The one disadvantage I can see from the start is that it is even more eye wateringly expensive than most auto coop doors although it does include the door. I also think it could be a real problem to keep it clean and operating smoothly, it slides from side to side in rails and all enclosed in a plastic housing which I can see getting choked up in no time.
Below: The Omlet auto coop door.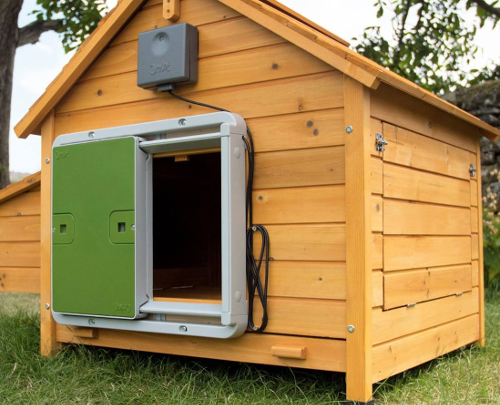 This is one of Omlets own marketing pictures as I didn't find anyone with one who was prepared to let me have a few images, even on Facebook.