What is the best material for chicken coop construction?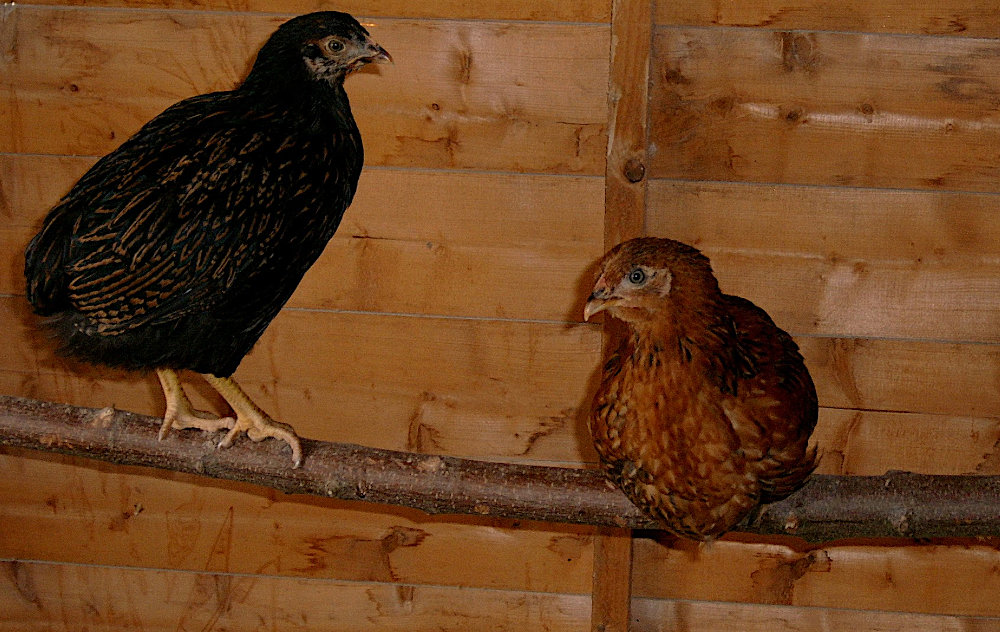 If you're thinking of raising chickens, be it in your backyard or in a farm, you will need a safe and well made place to house them.
Building a chicken coop is a great way to customise, to plan the layout, to optimise on ventilation and also to make sure you use the best possible materials within your budget to give your chickens a clean and safe home.

Here's a pretty basic list of the things you'll need to get started. 
Nails and screws.
Framing lumber.
Plywood or cladding timber for floors, roofs, and walls. 
Pallets.
Roofing shingles.
Fencing material - mesh, wire, wooden, or electric.
Your chicken coop can be made of wood, plastic, metal, PVC pipes, or even recycled or up-cycled/recycled materials.
Let's take a closer look at what materials are better and how to go about using them.
Wooden chicken coops:
Lumber is the most common material used to build a chicken coops. It is easy to work with and readily available and the right wood is not only easy to maintain and hardy, it is also the most versatile material you can use.
It can be pretty pricey, depending on the wood you buy. Pine, spruce, and hemlock are softwoods that are popular for chicken coops, while tropical cedar, hardwoods, and redwoods are more hardy and resistant to rot, albeit on a higher end in terms of price.
Below: Wood is a good and common choice for chicken coops. It is readily available and easy to work with.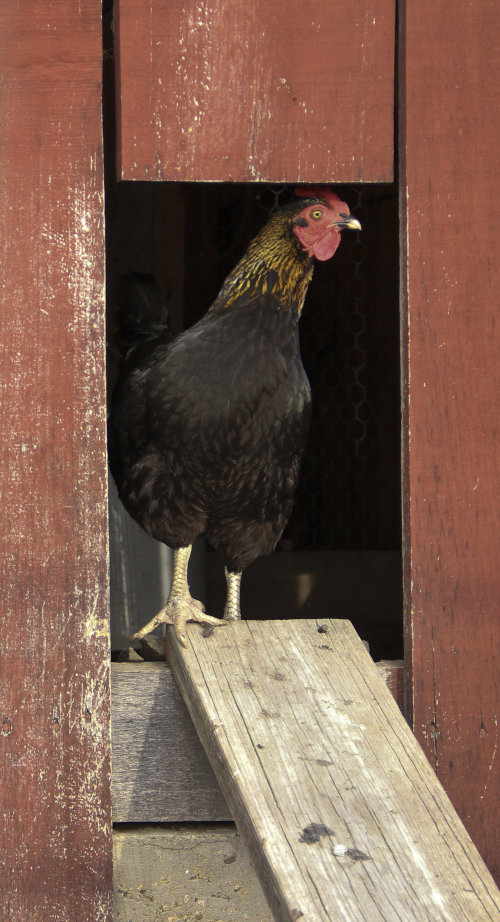 Wood also allows for easy customisation. Make sure to choose a plywood designed specifically for exterior use, that can be stained and painted on. 

Pros and Cons of using wood in chicken coop construction.

Pros:
If you choose pressure-treated lumber, it is injected with chemicals that render it pest-free and water-proof. 
You have a variety to choose from, to fit your budget.
Naturally rot-resistant wood makes your coop long-lasting, hardy, and easy to maintain.
Easy to customise by staining the wood or with a coat of paint.
Cons:
Relatively pricey.
Unless treated and made pest-free, wooden coops are prone to infestations by termites and other wood-parasites.
The wooden coop will also need to be treated for rot, especially if you live in a humid place, with frequent rain. 
Requires a lot of elbow grease and time to clean.
Plastic chicken coops:
Plastic is perhaps the cheapest of material you can use to build your chicken coop in the long run. It is also the easiest to maintain.
These plastic chicken coops only need the bare minimum cleaning. All you have to do is hose down the insides and let it dry. The entire process reportedly takes half an hour, and your chickens will be back in their home. 
Below: The well known, moulded plastic omlet eglu chicken coop.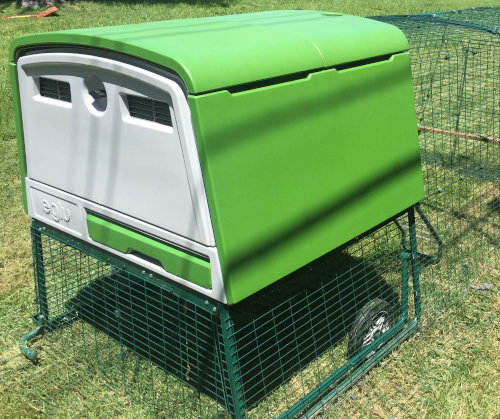 If you decide on plastic, then you will find that many ready made chicken coops are already out there in the market for you to purchase, and they come in different sizes and designs. 

Plastic also protects your brood from weather and provides safety from winds and cold weather. Unlike wood which can rot under moist temperature, plastic not only protects your chickens from the rain, but opaque plastic will also block direct UV rays from soaking in. 

The best layout would be to make a double-wall design, with two layers of plastic with a layer of air in between for optimal ventilation.
Pros and Cons of using plastic:
Pros:
Easy to maintain.
Lightweight and easy portability.
Economically priced.
Water-resistant.
Cons:
While plastic coops are durable, it is wood that is much more customisable, and frankly, easier on the eyes.
Plastic chicken coop can become very hot inside during sunny weather.
I need to declare somewhat of a conflict of interest here. I have owned plastic Omlet chicken coops in the past and did not like them. They get too hot inside and the nest boxes are the same height as the roosts leading to hens sleeping in the nests.
I found to my cost that plastic coops do not stop red mite either, although they are easier to clean.
Metal for chicken coops:
Most metal chicken coops are made from corrugated steel sheet. They are hard to damage and treated to be rust resistant. You can easily find the parts needed to build these coops and they are reliably strong and stable, not given to bend or collapse under bad weather. 

Metal coops are a great way to protect your birds from not just the cold, but also from animals like possums, foxes, and raccoons that might get into your coop. Metal is also often used as the skeleton structures for coops as well, if not for the actual coops themselves.
Below: Metal is best for the sheet roofing material for your coop.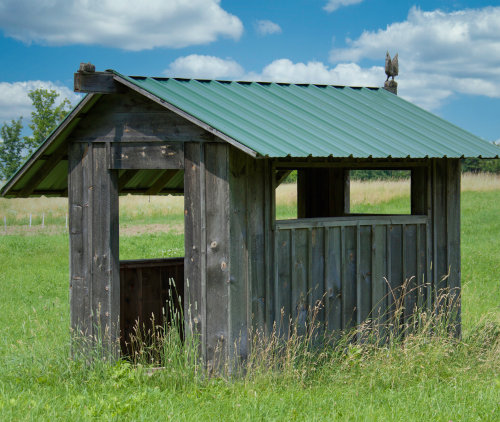 They also come in easy-to-assemble and set up structures, sold at most pet stores, or are sometimes already assembled, depending on the size and how portable it is.

Pros:
Metal is solid and generally predator proof.
Metal sheet roofing is pretty much everlasting and once in place will last decades.
Metal is 100% recyclable.
Fire proof
Cons:
It requires special tools and protective gear and has sharp edges.
Initial costs are high.
PVC : 
PVC coops are similar to hoop houses covered with mesh and are more commonly used to pasture finish broilers in the backyard but they can be used for layers on a more permanent basis.
While plastic and wood are perhaps the two most popular choices of materials to build a chicken coop, some people use PVC pipes as well. These structures are an inexpensive method to let your chickens roam, while keeping them safe and protected from animals. With some PVC pipes and some netting, you're all set. 
PVC pipe is rarely strong enough to build the frame of a chicken coop.

They are originally used to provide space outside the actual coop for your chickens to graze or just roam, so you cannot also use PVC pipes to build the coop itself, merely the skeleton for the coop, while the coop itself is often made from wood or plastic. 

However, these structures are portable and easy to set up and dismantle. It is also easy to expand or retract these structures, depending on the number of chickens you have. They are also a great way to separate your chickens from other poultry, while allowing them to roam freely in their own compartments. 

Pros and Cons of using PVC pipes:
Pros:
Easy to set up.
Easy to dismantle.
Low-cost.
Portable.
Cons:
Do not provide actual shelter or housing, merely room to roam and graze outside the coop.
Recyclable Materials:
If you are particularly crafty and good with reworking and up-cycling different materials, then you might consider building a chicken coop from recycled materials.
There is a whole group of chicken keepers that take pride in crafting hen houses from pallets or recycled materials.
This might be wood you grafted from another structure, reclaimed wood or scraps of metal you recycled to make shingles. But recycled materials are eco-friendly and are also a great DIY project.
Below: It is perfectly possible to reduce the costs to almost nothing by recycling. This one is made from pallets.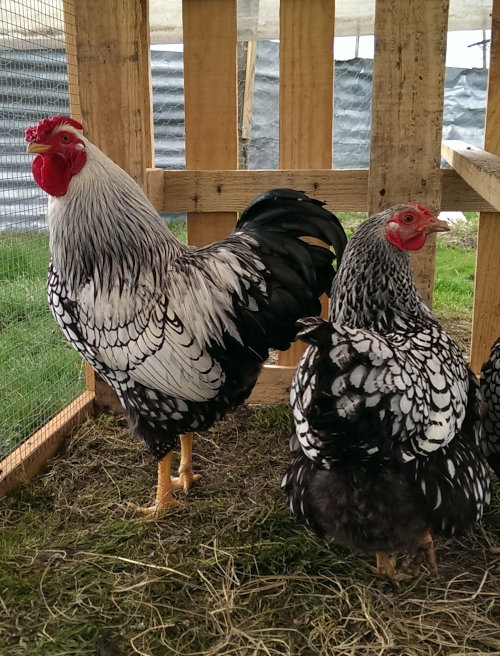 If you are new to building, however, using materials like salvaged parts from old cars and other scraps might not be as easy as it sounds. Often, these materials need to be treated, cleaned, and checked to make sure they are safe and viable. 

You do need to take some care with recycling, if you accidentally use a metal sheet for roofing in a hot and sunny environment, your chickens could end up with heat stroke.
The Verdict?
While all the above are great materials that you can use to build your chicken coop, wood, and then plastic are perhaps the most popular.
Lumber that has been treated is all but maintenance free, pest resistant, and great to look at, which make it a favourite for chicken owners who don't mind investing in good, solid wood for a sturdy chicken coop.